10 Most Reliable Cars
Blog
Oct 25th, 2018
Consumer Reports' massive annual survey reveals the models that shine for reliability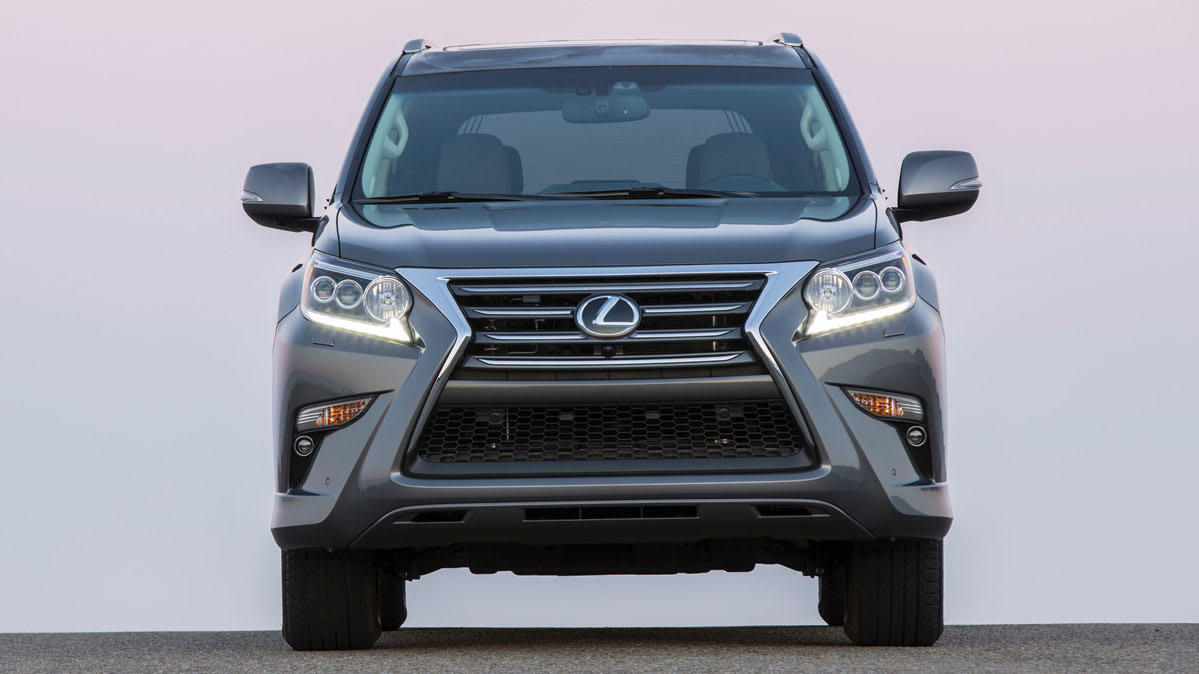 Purchasing a car is a long-term investment, with the expectation that the car will provide dependable transportation for the long haul. But as Consumer Reports' surveys show, not all cars can fulfill that promise.
Based on our 2018 Annual Auto Survey, these models are the 10 most reliable cars today. We predict that these cars will give owners fewer problems than their competitors, based on data collected on more than 500,000 vehicles.
Our survey takes a deep dive into the numerous things that can go wrong with a vehicle.
We study 17 trouble areas, from nuisances—such as squeaky brakes and broken interior trim—to major bummers, like out-of-warranty transmission repairs or trouble with four-wheel-drive systems. We weight the severity of each type of problem to create a Predicted Reliability Score for each vehicle.
Based on that analysis, these models are the most reliable.
They are presented in rank order, starting with the most reliable. For more details on the models' reliability predictions and history, click through to their respective model pages.
Lexus GX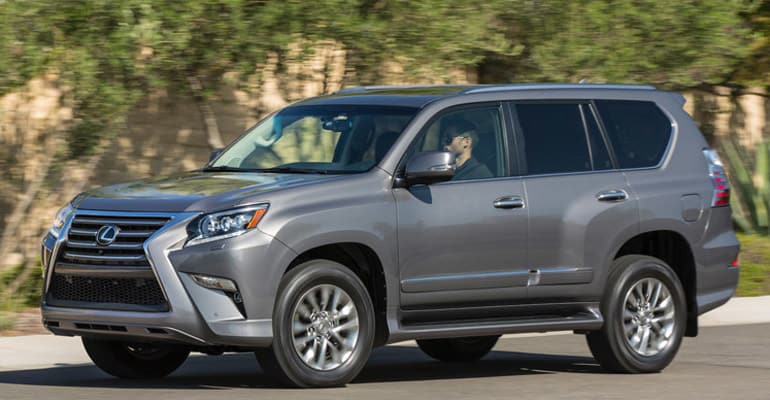 Like its Toyota 4Runner corporate cousin, the GX 460 is among the few remaining old-school SUVs that use a body-on-frame design. It is very quiet and quick for a hulking brute, yet the GX is highly capable off-road and has a 6,500-pound tow rating. The 4.6-liter V8 engine and six-speed automatic make for a slick powertrain but got a paltry 17 mpg overall. Handling is lumbering but ultimately secure. The ride is very comfortable, especially at low speeds, although the body tends to jostle when driving over uneven pavement. Inside, the cabin is plush and well-finished. Drivers of almost any height should find a good driving position. There's plenty of space all around and a commanding view out. The small third-row seat folds neatly into the floor when it's not in use, but the side-swinging rear door can be inconvenient at times.
Toyota Prius C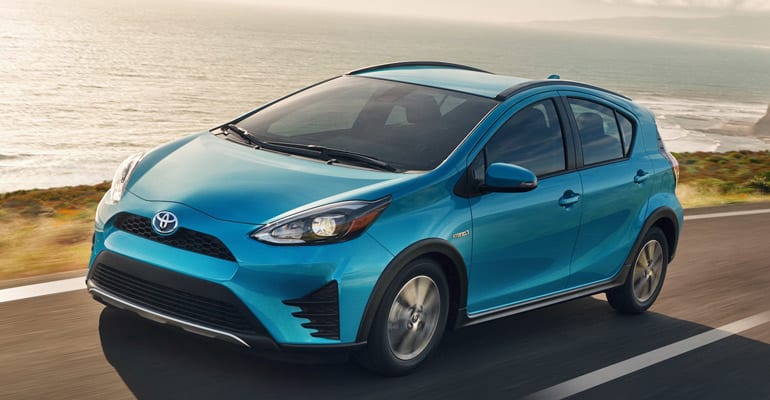 This smaller, less expensive alternative to the regular Prius feels like a spartan subcompact with a hybrid powertrain. In the end, you pretty much get what you pay for, and it is no substitute for the real Prius. The C has a harsh ride, a noisy engine, and slow acceleration. The interior looks and feels cheap, the driving position and rear seats are cramped, and there's little cargo space. But its 37 mpg in city driving makes the Prius C one of the most frugal vehicles we've tested, and its 43 mpg overall is just 1 mpg less than the previous-generation Prius hatchback. Its tiny dimensions make it a natural for urban driving. Automatic emergency braking is standard. Note that 2019 is the final year for the Prius C.
Toyota Prius Prime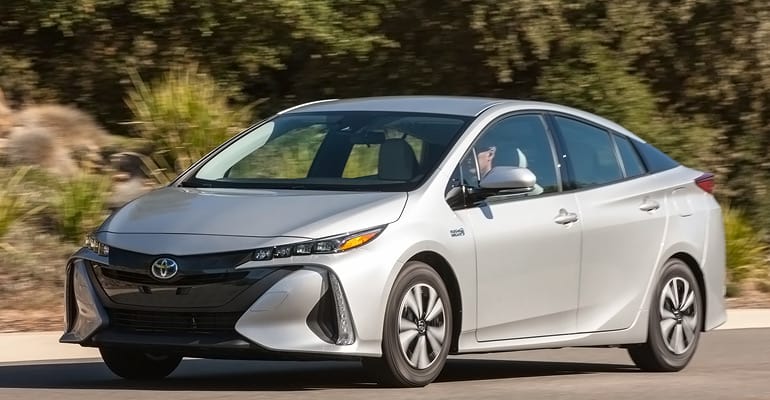 The Prime is a plug-in Prius that can usually drive about 23 miles on electricity only. But the gas engine tends to start up in cold weather and under full-throttle acceleration. It takes 2 hours to charge the Prime through a 240-volt connector and 5 hours on a regular 120-volt. When not running in EV mode, the Prime operates much like the regular Prius, alternating between electric and gas power, returning 50 mpg overall. With styling that's slightly different from that of the regular Prius, the Prime can hold only four passengers, and it loses the rear wiper. The infotainment system, with its large touch screen, is unintuitive to use. The compliant ride and responsive handling are quite similar to those of the regular Prius. Standard safety features include automatic emergency braking and lane-keeping assist.
Mazda MX-5 Miata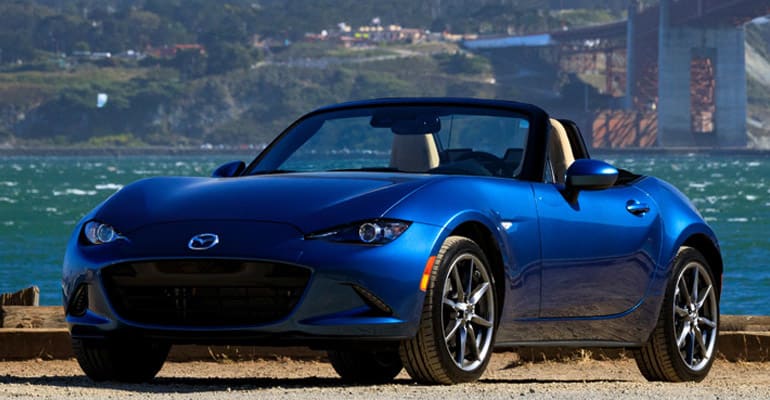 The fourth-generation Miata remains true to Mazda's original formula of a lightweight rear-wheel-drive roadster. The Miata quickly scoots along while returning a miserly 34 mpg overall. Shifting the delightfully accurate six-speed manual shifter is a joy. We'd skip the optional automatic—though it works fine, it dilutes the driving experience. Quick and precise steering delivers sublime back-road handling, even though some body roll is noticeable. High levels of noise, thin and unsupportive seats, and a stiff ride all grow fatiguing during highway travel. Cabin space is snug, and the optional dial-controlled infotainment system takes time to master. Flipping the convertible top open or closed is a breeze. The 2019 updates include a horsepower increase from 155 to 181.
Toyota Corolla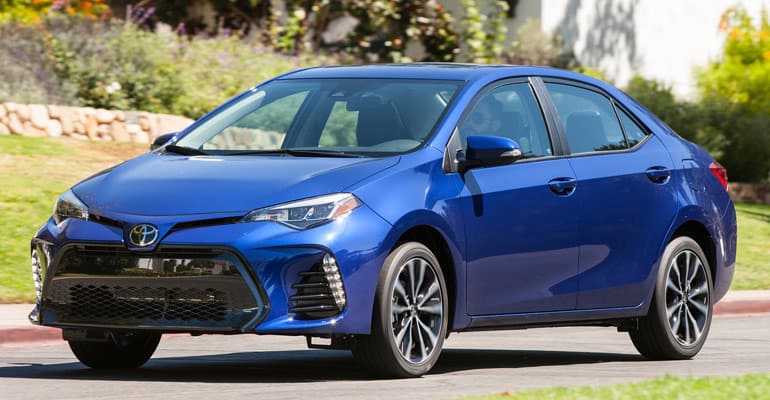 The Corolla delivers a comfortable ride and has a quiet, spacious interior for a compact sedan. Handling is lackluster but very secure. A sportier SE version has a tauter suspension with marginally better handling. The continuously variable transmission is fine when loafing around but can elicit loud engine noise under higher revs. Fuel economy is excellent at 32 mpg overall and 43 mpg on the highway. Inside, padded and stitched surfaces contrast with a number of drab, hard-plastic bits. Upscale features include standard Bluetooth connectivity, automatic climate control, and a touch-screen radio with simple controls. Forward-collision warning and automatic emergency braking are standard. A new Corolla hatchback, replacing the iM, features a new 2.0-liter engine with impressive fuel economy and agile handling.
Lexus NX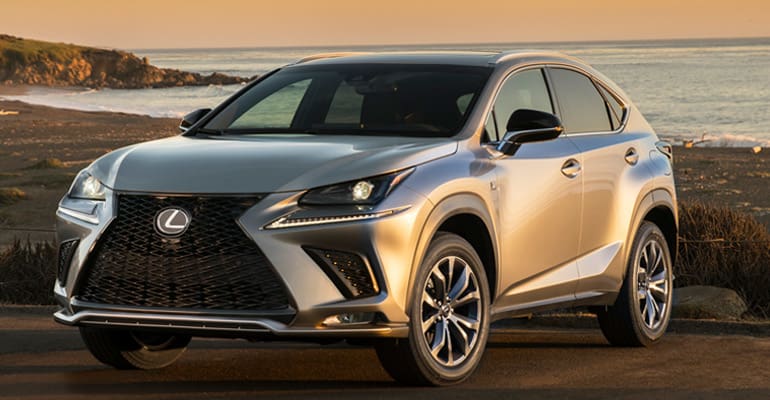 The compact NX delivers a less opulent driving experience than the typical Lexus. Handling is responsive, but the ride is rather firm and cabin noise isn't particularly hushed. The NX 300's 2.0-liter turbocharged four-cylinder works well and delivers 24 mpg overall. The NX 300h hybrid returns 29 mpg overall, making it one of the most fuel-efficient SUVs we've ever tested, but it feels a bit underpowered. Snazzy details lend the interior some appeal, but a number of cheap touches remain. Front cabin room is tight, and the styling compromises rear visibility and crimps cargo space. The fussy touchpad used for most controls is frustrating and distracting to use. The Lexus Safety System+ is standard and includes automatic emergency braking and lane-departure warning with lane-keeping assist. Blind-spot monitoring is optional.
Toyota Prius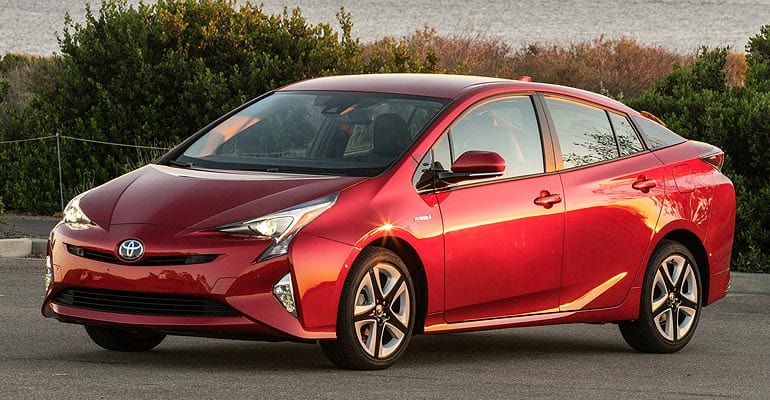 In our tests the Prius returned 52 mpg overall, a significant improvement over the previous generation's 44 mpg. Plus, the car handles more responsively and rides more comfortably. Colorful digital gauges dominate the dashboard with abundant fuel-economy information. The touch-screen infotainment system is fairly straightforward. The sensible Prius has always been about efficiency and low running costs. The car can drive solely on electric, usually up to about 25 mph, and the engine is now quieter when it kicks in. But the seats have mediocre support, tire noise is noticeable, and the car's lower stance makes it a challenge to get into and out of. Forward-collision warning and automatic emergency braking are standard.
Honda Fit
The Honda Fit subcompact hatchback has always been an appealing urban runabout. Thanks to its clever multi-configurable seating, the Fit delivers versatility similar to that of a small SUV. The Fit gets great fuel economy at 33 mpg overall. But that comes with excessive noise when the continuously variable transmission keeps the engine at high revs. Handling is responsive, but the Fit has a stiff ride. On top of that, the cabin is loud, making the Fit unfit for long drives. Opting for the EX brings a sunroof and paddle shifters; the EX-L includes heated leather seats. The button-free touch-screen radio on EX and higher trims is a constant frustration, and the seats and driving position aren't very comfortable. The Fit's recent freshening added the Honda Sensing suite of advanced safety features.
Kia Sedona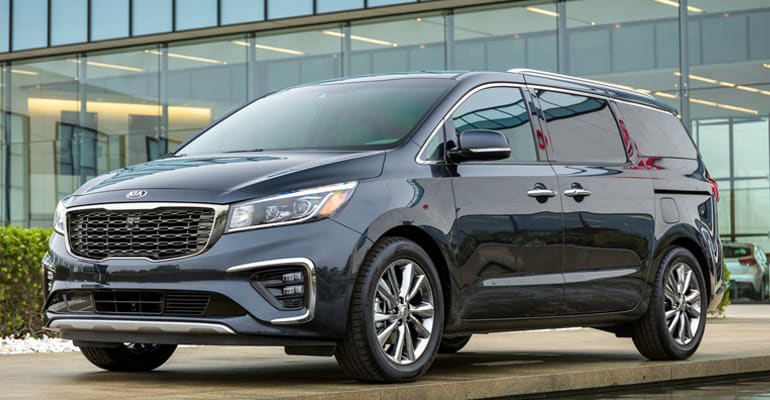 Freshened for 2019, the smooth and refined 276-hp, 3.3-liter V6 engine is now matched to an eight-speed automatic. The Sedona is available in seven- or eight-passenger seating capacities. The roomy cabin is quiet, but the ride is overly stiff and falls far short of the Chrysler Pacifica, Honda Odyssey, and Toyota Sienna. The Sedona is not enjoyable to drive. Its handling is rather ungainly, though ultimately secure. The interior is nicely finished and inviting, with a new front console that provides handy concealed storage. The very comfortable second-row seats neither fold flat nor are removable, cutting into cargo capacity. Available safety features include forward-collision warning, blind-spot warning, and cross-traffic warning systems.
Toyota Highlander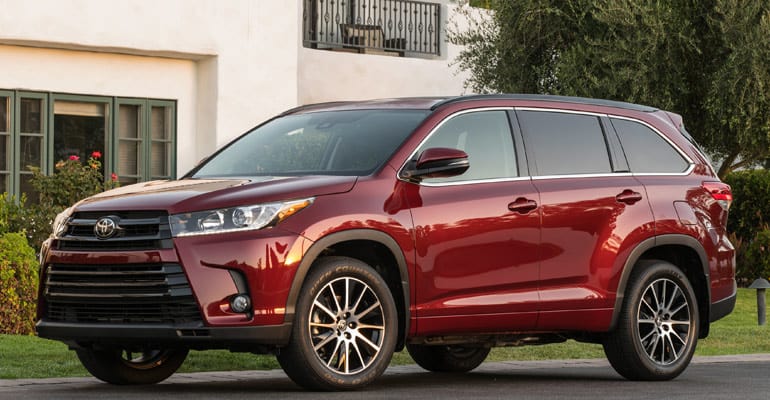 The Highlander ranks among the best midsized three-row SUVs, with a desirable balance of an absorbent ride, responsive handling, and generous interior space. A third row allows seating for eight in a pinch—seven with optional second-row captain's chairs—and folds flat easily to increase cargo space. The punchy 3.5-liter V6 engine is now matched to an eight-speed automatic. While this new transmission isn't as smooth as the previous six-speed one, it helped improve fuel economy to 22 mpg overall. The hybrid version gets 25 mpg overall. It's a long reach to some controls, particularly the touch screen. The Entune system includes a larger 8-inch screen. A comprehensive suite of safety technology, including forward-collision warning and automatic emergency braking, is standard.